On-demand printing remains a large industry, one that is still viable and competitive, even in the digital age. 
According to Print Business, for instance, the numbers for 2018 showed that printing, other than newspapers, is a £10 billion industry and growing. Photobooks alone have grown sharply, from a value of £19 million in 2008 to £75.4 million in 2018.
Fine Print reports that "the printing, packaging and graphics communications industry makes a substantial contribution to the UK economy as a whole and represents a vital medium for education, entertainment and information." 
Here are a few relevant statistics:
Print serves just about every aspect of the economy from central and local government to financial services, retailing, distribution, travel and tourism and manufacturing.

The value of sales by companies in the printing industry is around £14.5 billion. Sales of advertising literature and books, brochures and leaflets dominate the figures.

Printing companies can be found in practically every town throughout the UK.
And it's not just about paper products anymore. T-shirts and other custom merchandise like socks, face masks, phone cases and stickers are all examples of the demand for printed goods.
There's also the ever expanding print-on-demand industry, which provides the ability to start a company without holding inventory or investing in print machines. Instead, products are made to order in small batches or even individual units, and only once sold, is sent to end-use customers. 
Using digital print technology to create products, it's easy to advertise a 'virtual' inventory, which is particularly exciting for merchandise companies looking to offer competitive pricing, speedy fulfilment and simplified shipping.
This type of competitive environment also means print companies have to meet customer's growing expectations. One of the ways to stand out is through flexible and reliable delivery programs, whether your business is well established or looking to offer new services.
Let's look at 5 ways same day delivery can help printers:
1. Extend Next Day Delivery Cut Off Times
Printers often rely on next day delivery to send goods. To do this, they book a courier today, asking to collect and deliver the item tomorrow. That means the order must be placed by the customer in time for the courier to be booked for next day delivery. 
In fact, next day delivery has become the standard by which customers may choose their printer.
In the UK, shoppers expect fast delivery. One report cites that if an order is placed before 4:43 PM, customers expect to have it delivered to them the next day. A growing number of shoppers now set that cut-off time at 8 PM. For same day delivery, the majority of British shoppers expect a cut-off time of 2 PM.
But with the right delivery partner, printers can extend their order cut off times by scheduling a courier to collect and deliver the item within the same day. Some courier companies can turn goods around even quicker, providing same day delivery even for pickups late in the day. 
That means a customer can place an order, and the printer can contact the delivery partner to book, collect and deliver the item on the same day. That will extend their order cut-off times and please the customer. 
Printers don't typically have this capacity, but with an easy-to-book courier, this service can really help clients with jobs that need a rapid turnaround.
2. Still Deliver On Shipping Promises Even With Printing Issues
Every business has a bad day, and in the printing business, that means issues like equipment breakdowns can delay shipment of promised goods.
As pointed out by the British Printing Industries Federation: "Production problems lead to late delivery of print. And late delivery of print leads to fewer sales. Which leads to lower profit margins." 
But with an on-demand delivery partner in place, printers can still deliver the goods on time, even after a printer malfunction or other problem that can't be anticipated. 
For instance, some couriers offer last-minute local delivery, allowing a printer to offer same day service for late orders. Delivery time can be as little as 30 minutes within a specified distance from the pick-up point. Couriers will handle just the one drop, which can be more expensive but is guaranteed to be quick to handle those unexpected emergency deliveries.
3. Deal With Last Minute/Urgent Enquiries
In the print industry, there are always those late orders, and urgent delivery requests from clients. Being able to meet the needs of the customer is one way to differentiate your printing company from its competition. 
And people will often be willing to pay extra to meet their last minute requests. Several years ago, eMarketer reported that 22% of online shoppers would pay more to get their goods within two hours. One would guess that those same day delivery statistics may be even higher now.
Once again, the right delivery partner can help meet and exceed those expectations. For instance, a two hour scheduled delivery window will allow customers to receive their goods on the same day, without waiting all day for the delivery. If within a local radius of the pick up point, a printer can offer that almost-ASAP convenience, but still with an attractive fee.
But, same day delivery doesn't always have to be local. If the booking is made and pickup can be handled early enough, same day delivery can be for locations as far away as London to Ipswich – over 100 miles away. A rush job is always available for those really urgent delivery requests.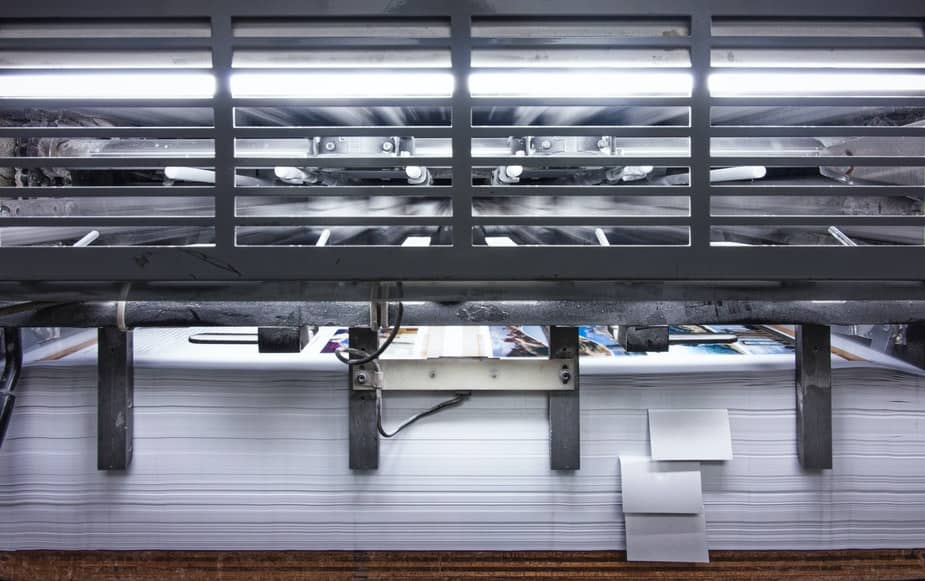 4. Organise Public Relations and Influencer Drops
Many printing businesses have expanded their offering to include new all in one services options like public relations mailouts. 
Typically, clients provide the products, while the printer handles the packaging and takes care of delivery. For example, fragile, valuable and even bulky influencer gifts benefit from a reliable courier service, when a traditional overnight postal service isn't suitable.
Using a same day multidrop service, where a single vehicle delivers goods along an optimised route, can be a cost effective option for multiple influencer drops. With a delivery partner that offers GPS tracking links, you get the added bonus of knowing the location of packages to track delivery points. 
5. Expand Delivery Offering
Consumers are expecting more and more when it comes to purchasing goods online and having them delivered.
49% of shoppers say that same day delivery makes them more likely to shop online

96% of customers consider "fast delivery" to mean same day delivery

80% of shoppers surveyed want same day shipping, while 61% want their packages even faster — within 1-3 hours of placing an order.

More than 25% of shoppers would abandon a cart online if same day shipping wasn't available
That means adding more delivery options can increase sales for printers. Even if customers don't always choose the fastest option, they will appreciate the extra options, and they may be more likely to return because of the added choices. Customers learn what to expect from a printing company, so an added bonus is to expand delivery services to go above and beyond expectations.
It also means printers want to make sure those delivery offerings are reliable. After all, Forbes reports that 87% of customers who say they had a great experience will make another purchase from the company, compared to 18% of customers who had a very poor experience.
Here's one way Gophr can help expand a delivery offering, the "order by 4 PM and get it by 10 PM same day service." This same day delivery is a step up from late pickup, next day service, at good value. By combining a later cut-off time and a longer delivery window, the courier can bundle together orders from multiple customers into a single multi-drop booking, which means cost savings per drop. It's common for B2B deliveries.
Delivering the Goods
Print businesses can stand out from their competition with a reliable partner to handle their deliveries. 
Gophr is an ideal choice among couriers in the UK, whether your business is a start-up, a small to medium business or a large enterprise with an established reputation. Gophr specialises in a same day business-to-business service, with full end-to-end tracking in real time. 
Here are a few examples:
Seasonal unpredictability can cause issues for print companies. Holidays, for instance, may mean an increase in customer demand. But a delivery partner with the ability to add capacity means printers can book extra couriers and still know the goods will arrive when promised. A flexible business technology like the one used by Gophr makes it easy for printers to request additional support when needed. 

Companies can go from being a printer to an influencer with the right delivery partner. For instance, the print management company

Colour Alliance

has used Gophr to deliver public relations mail-outs and gifts, including fragile items like cosmetics. Gophr has handled same day multi drops for Colour Alliance's clients, using a tech platform that saves time and money by calculating multiple deliveries in one efficient route. 

Deliveries can be made for every size of drop, with vans, motorcycles and bicycles ready to deliver goods. In fact,

bike delivery services

have expanded in London. A new generation of cargo bikes can handle capacity up to 100 kilograms, which is as much as a small van. It also expands capacity for cost-saving multi drops. 

Printers will also benefit from Gophr's network of DBS checked, high quality couriers. Most of these highly trained team members are driving for a career, so they understand how to provide outstanding service. 

Customers will appreciate that they can communicate directly with the couriers, which is a big time-saver for businesses too.

A tracking link will be sent to customers so any questions can go directly to the courier, without the printing company trying to track down the parcels. 

And the most valuable service to printers is the reliability of guaranteed delivery. It's possible to commit to clients and know that Gophr will "deliver the goods."
By choosing a partner like Gophr to solve any delivery need or arising issue, a printing business can stand above the competition in a tight market.