If you send multiple same-day parcels a day you could benefit from our multi-drop delivery option.
To book using our multi-drop sheet (linked below) you must have at least 20 drops or pick-ups on the same day, in the same city. If that sounds like you, then make sure you look into our multi-drop delivery services to save you time and money.
If you're not quite sending or collecting 20 items per day, then you'll be better off sticking with our web app to book your jobs separately.
GOPHR MULTI-DROP BOOKING SHEET
How our multi-drop delivery service works
When you choose a multi-drop delivery service, you consolidate lots of different delivery bookings into a single one. So, rather than 10 couriers picking up 10 packages, a single courier picks up all the packages in one go at an allotted time.
We consider all 10 drops at once and work out the most efficient route for the driver to deliver all 10 items. Doing so makes it far cheaper to collect these parcels, and it's a more eco-friendly option than sending lots of single deliveries too.
Our multi-drop delivery service is also still fully trackable and customisable, so you'll always know where your parcels are and how long you can expect them to take until they reach their destinations. 
We introduced multi-drops because many of our clients were sending or receiving large volumes of deliveries per day. We figured there had to be a better, more efficient way to do this than single drops. So we crunched the numbers, retooled the backend and developed our highly efficient and intelligent multi-drop delivery service. 
If you're new to multi-drops, let us talk you through how they work and how you can use them. (If you're not new and want to cut to the chase, here's where to book).
Multi-drops or multi-pick ups
Multi-drops let you book a courier to go to one pick-up point to gather lots of packages to be dropped at multiple delivery points. That's why we've called them multi-drop deliveries. 
Multi-pickups are basically this in reverse. So, when a courier collects parcels from multiple pick-up locations to be dropped at one delivery point, it's known as the multi-pickup service.
Multi-drops are for mid-to-high daily volumes
Multi-drops are best suited to businesses with high volumes (10+) or regular packages to send. The parcels are all carried in the one vehicle and as always, maximum care and attention is given to every item. 
All parcels being sent via the multi-drop delivery service are also fully trackable, which is ideal for businesses that need to know exactly when their items will be arriving with their customers. 
Multi-drops are a particularly good choice for fragile or delicate contents e.g. food subscription boxes, media kits and PR boxes, but they can be used for almost any parcel that a business needs to send. 
Multi-drop deliveries save you time and can cut the cost of a job in half*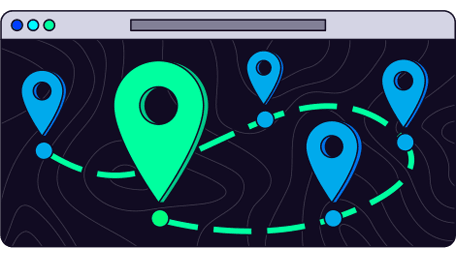 Booking a multi-drop saves you time. It's also far more cost-efficient. In fact, using multi-drop deliveries can reduce your costs considerably, when compared to the price of booking each job separately. 
With multi-drop deliveries, you're able to track all parcels under a single route. This gives you total control and peace of mind. And it's much better for the environment, as couriers are covering fewer miles on routes mapped out by our cutting edge technology. 
For extra savings, book separate multi-drops for different directions e.g. all drops south of the warehouse and all drops north. This might take a bit longer to arrange, but the savings will be worth it. If you need help with your booking, don't hesitate to contact us. 
*This statistic is based on a well-grouped delivery route and is variable depending on distances travelled. 
Not all multi-drops are equal
Several courier companies offer multi-drops, but our tech optimises the most efficient single route to drop off every parcel with minimum mileage. The most appropriate vehicle for the job is chosen automatically by matching the parcel dimensions with the vehicle load, to further enhance efficiency and make the journey more environmentally friendly. However, companies can also select a preferred vehicle type at time of booking if required.
Multi-drops are easy to use
Download the multi-drop sheet below and follow the instructions to 'get a quote' or 'make a booking'.
Fill in as much information as you can. The more information you can provide, the better.
Currently, we can only offer one multi-drop delivery window for all packages on the same day, but we're always working to improve our features. 
Our ambition is to be able to provide individual booking slots so that your customers can easily choose exactly when they want to receive their parcel. Watch this space.
Here's the link: GOPHR MULTI-DROP BOOKING SHEET
If you need any help let us know, and as always, we welcome your suggestions on what you think we should develop next (hello@gophr.com).