Businesses of every size are benefiting from the boom in online shopping. 
Online shopping is one of the most popular activities worldwide, with e-retail revenues projected to grow to £4.05 trillion in 2022. The benefits can only be realised, however, if the business can fulfill the customer's order and deliver goods on time. That's true whether you're selling and shipping goods from a retail store, or providing products like same-day delivery of pharmaceuticals. 
Having a dedicated in-house fleet can be a deal-breaker for a business that wants to increase its customer base and keep them happy. Whether you have a small-to-medium size business, you're just starting out, or you run a large operation, delivery fleet management is something you need to figure out.
There are a lot of fleet vehicles on the road. In the United Kingdom, the light commercial vehicle sector continues to increase, with some 4.6 million vans on UK roads. A 2019 report stated that "almost all are serving a role that will have a direct impact on the economy." Another report stated that licenced vans were used 16% of the time for 'delivery / collection of goods' in 2019-20.
But the concept of an in-house delivery service raises concerns for those businesses without expertise in fleet management.  
We're here to help! Here are 4 questions about how to build a dedicated in-house delivery fleet, and the answers you need.
1_
Is an In-House Fleet Right for Your Business?
The first consideration is whether a dedicated in-house fleet makes sense for your company. Do you need to have your own vans, cars or bicycles, as well as dedicated drivers, to meet the shipping needs of your company?
Here are some advantages to having your own delivery fleet services:
Guaranteed capacity

More control over the delivery experience

The ability to brand the vehicles to use as a marketing channel 

Delegation of shipping to one area of the company, allowing you to focus on other business operations

Your business requires specialised services
That doesn't mean there aren't disadvantages to an in-house delivery service. For instance, once you own a fleet of delivery vehicles, it can be hard to scale up or down. At holiday time, there may be a spike in sales that creates more deliveries than the fleet can handle. Post-holiday, you could be paying drivers to sit around without work. 
The technical requirements can also be challenging, like optimising delivery routes and integrating with ecommerce platforms to improve the customer delivery experience. People now expect regular delivery notifications, tracking links and the ability to update delivery details – this all contributes to the technical challenges of fleet management.
There are other potential pitfalls, such as understanding how to manage a fleet, and determining appropriate maintenance for the vehicles. Staffing can even become a problem.
If you've had issues contracting with outsourced couriers, having an in-house delivery service seems like a better choice. But are there alternatives to actually owning your delivery vehicles?
2_ What are the Options for a Dedicated Fleet?
Operating with a dedicated fleet doesn't have to mean that your company actually owns the vehicles and employs the drivers. "Dedicated" isn't always "privately owned". 
A dedicated fleet can also mean working with a partner who can supply you with a fleet "dedicated" to your needs.  
So rather than choose to manage your own private fleet, you can use an expert delivery partner to provide you with a "dedicated" outsourced fleet to meet (and grow) with the specific needs of your business. 
This kind of outsourced fleet can be more cost effective, especially if you have a lot of weekly or seasonal demand to cover. And, a good delivery partner will allow you to configure delivery workflows, create branded notifications and pick from a pool of regular preferred couriers.
Supply Chain Quarterly, for instance, points out that a dedicated fleet could mean operating a private fleet, hiring couriers, or "contracting with third-party logistics providers for transportation services."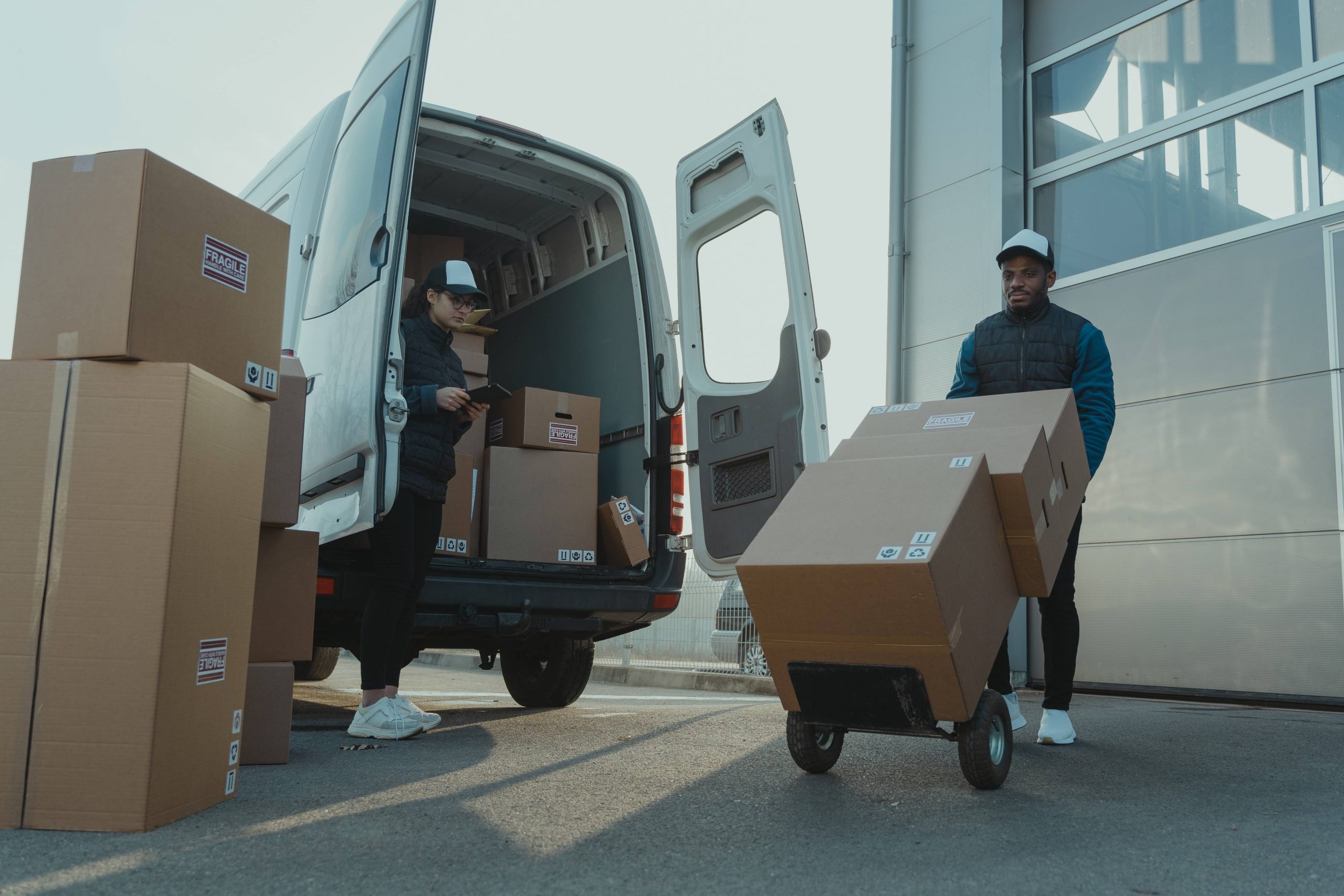 3_ What are the Benefits of Working with a Transportation Partner?
If you decide to run an in-house delivery fleet to fulfill orders, you'll need to understand:
How much fleet capacity you need

How large the initial investment will be – and it could be high

What to consider when your in-house fleet can't meet peaks of demand

What delivery services to offer and where

What technical integrations you need to put in place
Instead of trying to figure out transportation logistics on top of managing your business, why not choose a partner who already has that expertise?
Here are some of the benefits:
Expertise: If you're in retail, for example, you understand the products you sell, the pricing model and other components of your business. Suddenly you have to learn delivery fleet management, vehicle purchasing and maintenance, and how to hire, train and manage drivers. Rather than tackle such a steep learning curve, rely on a partner that will bring that expertise to your business.  
Resources: A transportation partner will also provide the resources you need, the vehicles that are properly maintained, as well as drivers (more on that in the next point). A partner can have specialised vehicles at the ready, from large vans for long distance multi drops to cargo bikes for faster delivery in cities.
Quality Drivers: Choose the right partner and you'll get the benefit of quality drivers. That means they are already trained and experienced, which is invaluable to a business. They can pack vans quickly and safely, drive routes more efficiently, and make the experience better for the customer – without the need for you to hire and train them.
No Delay: If you have delivery needs now, your partner should be ready to get to work. You won't have to wait while you build an in-house delivery service. 
Cost Containment: You won't have the initial investment in infrastructure, the ongoing costs of vehicle operations, and you'll avoid long-term maintenance costs. You also don't have to worry about hiring competent drivers and managing them over the long-term.
Scalability: Sounds complicated, but being scalable basically means that your partner can adapt to your needs. In peak times, you can "scale up" with additional drivers and vehicles as required, often at short notice, to address that immediate demand.
Ability to Expand: Let's say your business takes off and expands into a new city. No problem! You'll have access to a pool of couriers in your new location, without the additional investment that comes when you manage your own in-house fleet. 
Flexibility: A partner can provide different delivery methods for different business needs. You may not need large vans for every situation. Let's use the example of pharmaceutical deliveries. In more rural areas, a car or small van is typically required to cover those greater distances. But in the city, a bicycle or motorcycle delivery service may be better suited to make fast, same-day deliveries.  
Better for the Environment: If you're considering a mixed emissions fleet, then a partner that has different types of vehicles can help achieve your goals.  
"Stick to Your Knitting": Rather than worry about a new aspect of your business, and one that requires time to set up, you can dedicate more time to your core business. You'll be able to "stick to your knitting" and let your partner handle your delivery needs.
4_

How to choose the right delivery partner to build a dedicated in-house fleet?
Now that you know the benefits of using a delivery partner to build a "dedicated" in-house fleet, you might be asking how to choose the right company to outsource your delivery needs?
The benefits section described many of the key attributes to look for, and you can use those to find a high-quality partner. 
Whether you're a small to medium enterprise or a large business, look for a partner who can handle same-day business-to-business service, with full end-to-end tracking in real time. Look for one which allows customers to communicate directly with the couriers, which is a big time-saver for small to medium businesses.
Here are some questions to consider as you search for a transportation partner:
What experience do they have, and do they know your sector?

What kind of delivery services do you need and how will they be set up? For instance, are they experienced with

pharmacy

,

retail

,

grocery

or professional services? Who else do they work for and how successful have they been?

What cities do they deliver in? Do they deliver in London only, or is their delivery area larger?

Can they provide examples of growing with a business and

scaling up

to meet the needs?

What services do they offer? Do they handle only the standard A-to-B delivery? Do they do priority or rush delivery, multi-drop delivery and more?

What types of vehicles do they have, and will those meet your requirements?

Do they offer shareable tracking links with ETAs for customers?

Are there opportunities for you to highlight your brand? For instance, can you add your brand to customised notifications and messaging, or even co-branded uniforms?

What technical integrations do they offer?

Do they have account management and experienced customer service to help with those times when a delivery doesn't go as planned? 

Do they offer service level agreements and a client onboarding experience?
These key questions should help you find an ideal transportation partner to help you build a "dedicated" in-house delivery fleet, one that will meet your needs without the pains of establishing and managing your own.
Delivering the Goods
The landscape for businesses continues to evolve. E-Commerce has become ingrained in the global retail market, thanks to the internet and ongoing digitalization. Not surprisingly, Statista reports that the number of digital buyers keeps climbing every year: over two billion people purchased goods or services online and e-retail sales surpassed £3.1 trillion worldwide in 2020.
Those goods require quality delivery channels to satisfy customers, which means your business likely has transportation requirements. Those requirements may be evolving as fast as online shopping is growing.
A dedicated in-house fleet can achieve your goals without the need for you to build and manage it. By choosing a delivery partner like Gophr to provide a "dedicated" fleet for any size of company, your business can be successful in this new world.
If you're looking for a delivery partner, please get in touch at sales@gophr.com.