Ship-from-store and micro-fulfilment centres (MFCs) are at the core of new sustainable logistics models as they are placed closer to consumers, reducing delivery times and offering more efficient delivery routes. 
Let's look at how each model impacts the environmental footprint of a delivery, and how efficient fulfilment operations can help businesses reduce their environmental impact further.
SHIP-FROM-STORE
99% of retailers will be offering hyperlocal delivery in the next 3 years (Bringg Retail Barometer 2022)
Retailers often use their stores as mini fulfilment centres as they are located much closer to customers than large warehouses, allowing for quicker and more sustainable hyper-local deliveries.
A client of ours, Lush, uses the ship-from-store model to reduce their delivery emissions. A delivery from their warehouse in Poole to Braehead, Glasgow is approx. 460 miles, but to deliver to Braehead from a local store, it just takes 5 miles. That's a 99% reduction in miles travelled, by shipping from the store.
We're all about load optimisation, not just route optimisation. Bundling items together on these shorter journeys is another way to keep carbon emissions low and to maximise the number of deliveries per mile. Lush offers their customers specific delivery times and dates so their system can group orders together. This leads to fuller, but less vehicles (and emissions) on the road.
MICRO-FULFILMENT CENTRES (MFCs)
No store? No problem. Micro-fulfilment centres are a great alternative. 
MFCs are small spaces (e.g. mini warehouses) located in urban areas where storing, picking and packing is completed. Local fulfilment like this could decrease delivery traffic by 13% in London, saving 144k tonnes in carbon emissions – that's 17% of all delivery van emissions.
And, they're easier to set up than you think. Just get the right partners on board like our pals Parcelly, who can hook you up with a vast hub network across the country. Parcelly's expansive hub infrastructure, paired with Gophr's nationwide last-mile fulfilment means that together we can offer retailers, and the end customer, shorter delivery times, faster inventory turnaround, reduced overheads, and an altogether more sustainable delivery option.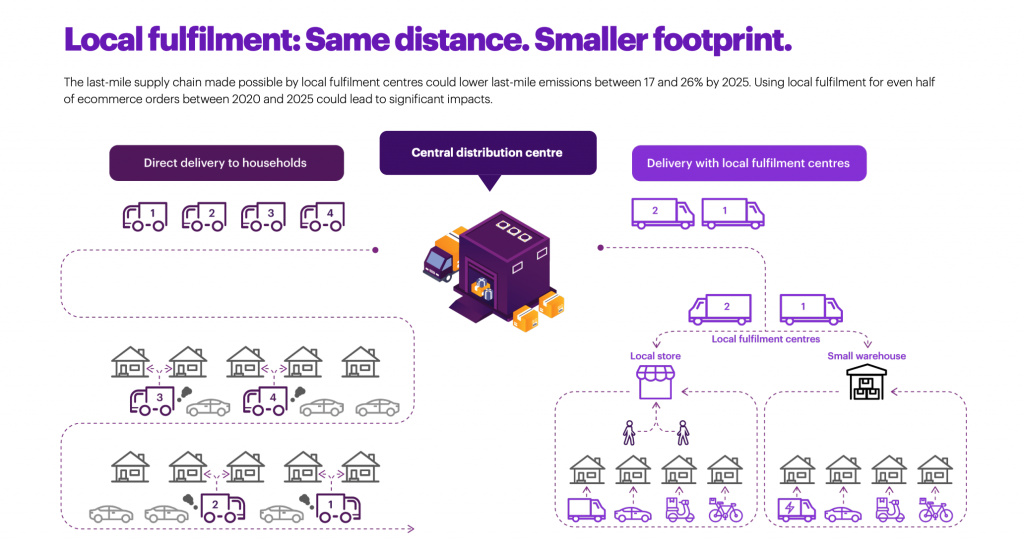 EFFICIENT FULFILMENT OPERATIONS
Whether you're thinking of localising your deliveries or you're already doing so, here are a few ways to optimise your fulfilment operations to help reduce your environmental impact even further…
Fulfilment area layout:

Design the floor layout so orders can be picked, packed and distributed in the most efficient way possible.

Screwfix

's mini warehouses have wider aisles, and strategically placed shelving units to speed up the pick and pack process.



Effective loading

: Use AI to organise parcels by weight and size to make better use of a vehicle's maximum capacity.

Load optimisation + route optimisation

= less emissions.



Well trained staff:

Make sure your staff can pick and pack efficiently so that parcels are ready at time of pick up to avoid courier waiting times.

Get notified:

Work with a delivery partner who'll send a clear notification ahead of time to tell you that a courier is on their way with a clear ETA and tracking link.

Route optimisation:

Use smart tech to distribute parcels into vehicles that are heading in the same direction.
If you have any questions or would like to share your own piece of Green Logistics advice with us, send us a message to partnerships@gophr.com.