Screwfix understands how busy the nation's tradespeople are, and for many, time is money when they have to leave the site to collect the required tools or materials to complete a job. As part of their commitment to convenience, Screwfix established a nationwide rapid delivery service.
Screwfix Sprint was developed, giving tradespeople access to over 9,500 products through the Screwfix app and have them delivered to site within 60 minutes. The delivery offering is fully integrated with their ecommerce app and order management systems, making it simple to scale across Gophrs nationwide network of couriers. Operating in 275 stores to date, the expansion continues, making it the fastest on demand delivery offering in the trade space.
"Our partnership with Gophr has been fundamental in bringing the hyper-convenience of Screwfix Sprint to busy tradespeople. The reliability and flexibility of the Gophr fleet allows us to scale the service nationally, ensuring more of our customers can get their job done quickly, affordably, and right the first time." Samantha James, Logistics Development Manager, Screwfix
Screwfix: an innovative leader in the e-commerce industry
Screwfix, one of the fastest growing retailers in the UK, offers an extensive range of tools and hardware products to tradespeople and DIY enthusiasts all over the country. Each week they sell a staggering 269 miles of cable, 6,300 saws and 18 million screws, helping its customers get the job done quickly and affordably.
The need for a delivery partner that could bring their hyper-convenience idea to life
With over 760 stores nationwide, 98% of the UK population are within 30 minutes of a store. But Screwfix had an innovative idea that would take convenience to the next level…could they create a service, where they could get a product to the customer quicker than them collecting it themselves? After all, if you can easily order a takeaway to home, why can't the same logic be applied to ordering tools direct to site?
Trialling the convenience of getting what you need the very same day
Screwfix turned to Gophr to develop a ship-from-store pilot, tapping into its nationwide network of local delivery drivers. Soon after, the first store offering the on-demand delivery service launched in Bristol, enabling customers to place an order on the app, track it every step of the way, and get the product delivered to site in just 60 minutes.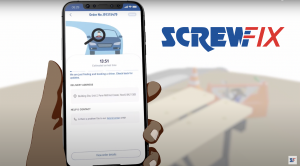 The first of its kind service met the growing demand for speed and convenience from the nation's tradespeople and DIY customers. Within 8 months, the ship-from-store model was operating in over 275 stores across the UK. The retailer had successfully proved their delivery proposition and the service is helping customers save time and stay on the job.
"Screwfix Sprint and our store network goes hand in hand, helping to bring Screwfix and the convenience we know our tradespeople need, even closer." John Mewett, CEO, Screwfix
Rapid growth of delivering on a 60 minute promise
The service has become a lifeline for their customers, giving app users access to over 9,500 products, 7 days a week, delivered to their door in 60 minutes with no minimum spend.
"68% said faster shipping (same-day or next-day shipping) had a "very significant" or "significant" influence on their decision to buy a product online"…Shopify 2020

If you have any questions about our service or want to chat, please get in touch with us at partnerships@gophr.com.