As demands for quick and convenient shipping stay strong, it's easy to overlook one critical element: the packaging. 
Climate change and consumer demand is pushing sustainable packaging high on the list of retailer's priorities, and more consumers are conscious of the effect their shopping has on the environment. In the UK, 40% of customers surveyed say they are concerned about the amount of packaging waste from their online orders (Internet Retailing). 
And the environmental impact isn't the only element consumers care about when it comes to packaging. It's also a great way to represent your brand and add personal touches that can result in increased customer loyalty  – just search for 'unboxing' on TikTok, it has 54 billion views.
We know sustainable packaging isn't the answer to climate change, but we're all about helping businesses deliver more sustainably where they can. So, here are a few things to consider when choosing or designing sustainable packaging.
Shapes and sizes
Right-sized packaging:
You want your packaging to have as little empty space around your product as possible. Not only to save on packaging materials, but to save on cost, and to protect your product from damage during transport. Oversized boxes also take up valuable space in delivery vehicles. The trick is to have more parcels travelling in less vehicles to reduce carbon emissions.
Letterbox-sized packaging:
A handful of crafty brands (Bloom & Wild, Moonpig, Treatbox) have based their business models around letterbox-sized packaging to solve the issue of missed deliveries, which are one of the biggest contributors to delivery emissions. If a package can fit in the letterbox, time, money and emissions are saved.
Materials
While you want packaging that protects your product, it's also vital that it protects the earth too. Here's a few sustainable packaging options you might want to take for a spin:
Biodegradable poly mailers from Packhelp can be broken down by microorganisms (bacteria and fungi) to become part of Mother Nature.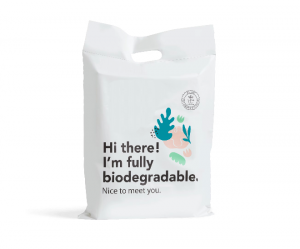 Compostable takeout boxes from No Issue are lined with seaweed lining making them compostable in the right environment (usually in industrial compost facilities).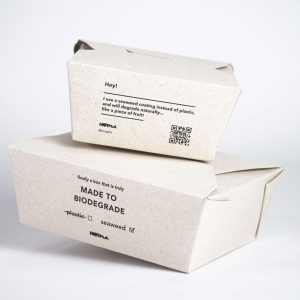 Some other types you might want to try… Cornstarch packaging, mushroom packaging, corrugated packaging, cellulose packaging, and glassine packaging can be just as effective as other, less sustainable options. 
Can't source recycled? Look for raw, virgin materials that are grown responsibly. Look for FSC certified products like these cardboard jewellery boxes from Westpack to source products made with materials that support responsible forestry.
Whatever material you choose, make sure you know how your packaging can be disposed of and make sure it's clearly communicated to your customers.
Creating sustainable and effective packaging is easier said than done. Customers are expecting simple, yet functional packaging that creates memorable brand experiences. And as it's often the only touchpoint online businesses have with their customers, it's worth doing it right.