Having just experienced the strongest period of eCommerce growth in over a decade, the need for fast, flexible and reliable delivery has never been so important.
So, how have people's delivery expectations changed, and how much are they prepared to pay to meet these expectations?
We've been working with IMRG to pull together some new data around this, and our CCO, Patrick Eve, spoke all about it at IMRG's recent virtual event.
Report still to come, but for now, here are some of our key takeaways:
Demand for speed applies to 'I need its' (medical & grocery) as well as the 'I want its' (fashion & electrical)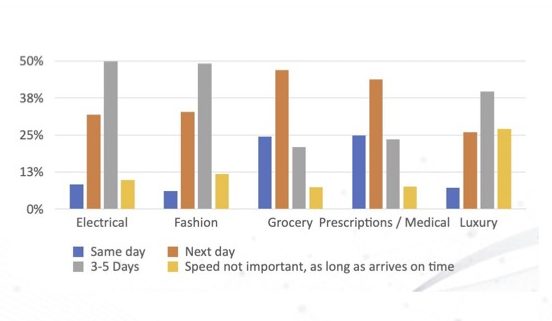 Need is a prime driver for delivery, but there's clear expectation creep as 1/10 people are demanding their 'wants' to be delivered too.
No matter what speed you're promising, it's critical to deliver on that promise. If you don't it's going to start costing you customers. This is particularly visible across the luxury sector, where sticking to the delivery promise is a key attribute, with nearly 30% of respondents highlighting this expectation, beating next day delivery.
Shop local, ship local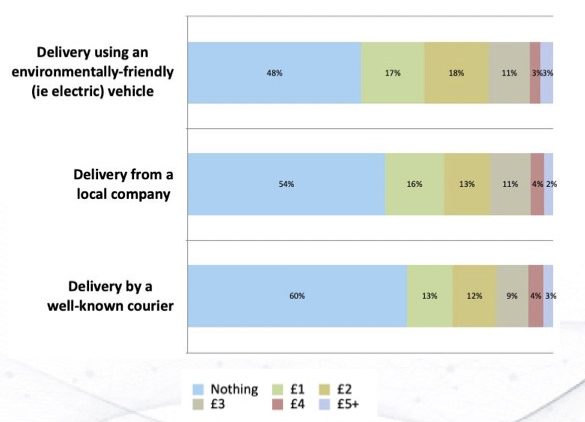 Consumers are willing to pay extra for sustainability, and the local shopping and shipping trend seems set to continue. 40% of local shoppers are happy to pay a premium for local goods to be delivered. Perhaps bigger brands can use a local presence to give themselves a more sustainable ship from store offering.
Selfishly, it's interesting to see that a courier brand can act as a differentiator for your business. The pandemic has exposed us to more carriers and carrier experiences and the differences are more apparent. With delivery being such a big part of the brand experience, and in-housing of delivery not a viable option, it's important to find the right carrier experience and offering.
75% agree that speed needs precision to make it truly premium
Although most shoppers don't want to pay 'excessive shipping costs' (the no.1 reason UK shoppers abandon their carts), 13% are happy to pay £5+ for 1-hour delivery. 
Local ship-from-store is perfectly positioned to deliver on this new premium upgrade, as well as being a new role for local stores in facilitating timed delivery slots on same day. Using the store as a micro fulfilment centre for local delivery is strategically beneficial to smaller companies who have to compete with Amazon, who purchased 23% of all industrial space sold in 2020.
Sustainability and same day can both deliver loyalty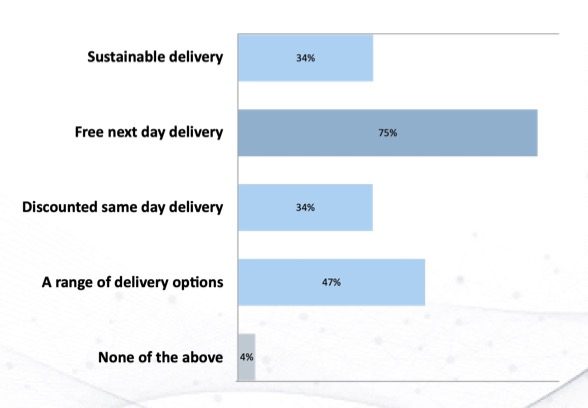 Green options are gathering momentum as people are demanding more sustainable delivery options. And, with same day now more widely on the cards, 1/3 of customers are likely to shop with you again if you offer discounted same day, and 3/4 would if you offered it for free.
In an era of increasingly fine margins and, well Amazon, retailers need to be looking for loyalty wins right across the customer journey. And 'good value x more convenient delivery' certainly looks like one to be in the mix. 
There's many different ways retailers can use delivery models to meet new normal expectations. So, if you need a hand figuring out what options work best for your business, get in touch on our Live Chat, or at steve@gophr.com.
And, if you'd like to see the full deck now or the report when it comes out, email emily.edwards@gophr.com and we'll send it to you.