Updated: 29/03/21
We get a lot of questions about what Gophr courier's vehicles can carry and what's best for their job, so we've pulled this post together as a guide to help you book the right vehicle for your requirements.
To make things easier for you, our system automatically suggests the fastest, cheapest, and most environmentally friendly courier vehicle for the job. But, you still have the option to decide which vehicle you'd like when it comes to booking your parcel.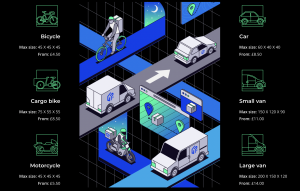 Bicycle couriers: Small parcel sizes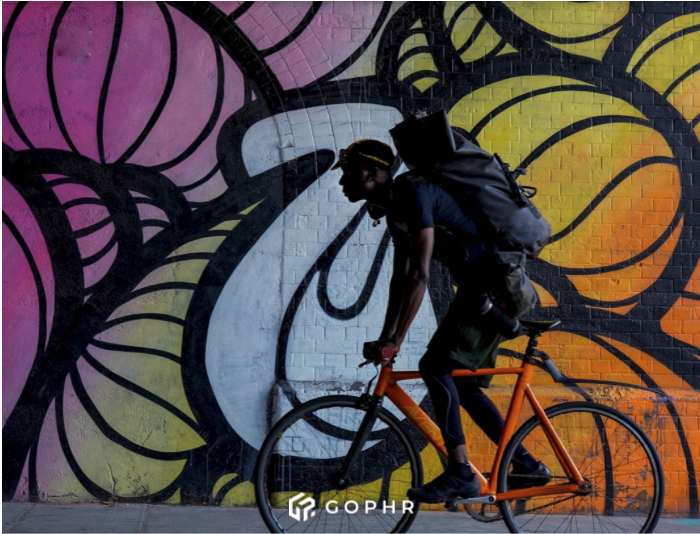 Bicycle couriers are often overlooked by other vehicles. For example, a lot of people assume that a car will deliver their parcels a lot quicker than a pushbike. That is not always the case, especially in London's traffic. Much to many people's surprise, professional bicycle couriers are incredibly fast and can cover a lot more ground than some of the car or van couriers.
Small parcels to send with a pushbike courier
Most discerning bicycle couriers know that being versatile means making more money. So, they will come prepared to carry unconventional items. Here are some items which pushbikes regularly carry although at first, users might deem them unsuitable:
Poster tubes; a pushbike will happily collect a tube up to a metre in length
Large envelopes; up to A3 size, you'll want to make sure your envelope is suitably stiff if you want to avoid paying extra for a cargo bike 
Boxes; if they are reasonably light (less than 3kg) you can send things a little larger than a shoebox
You'll rarely see a messenger without their trademark bag slung over one shoulder. Although they can fit a surprising amount in there, it's important to consider the weight of your parcel when choosing a pushbike. Weight is the biggest problem for a cycle courier.
Surprisingly, a cycle courier won't be too happy to carry your can of paint five miles across town. These couriers make their money by picking up and dropping as many items per mile as they can. So, if they can pick up 20 envelopes and drop them periodically, zig-zagging their way to each drop as they make their way through the city, happy days. 
If a bicycle courier arrives to find they have to carry a heavy box of paper to the end of their route, they won't be so happy. They'll either have to ride the long route to get rid of the heavy item or burn themselves out lugging the heavy item around multiple drops.
Top tip: Keep it light and make sure it's packaged well in case it needs to be strapped to the bag.
Items not to send with a pushbike courier:
Glass

Fragile and delicate items that are not suitably packaged

Heavy items

Pastries and cakes

Delicate and decorative items
Motorcycle couriers: Small, well-packaged items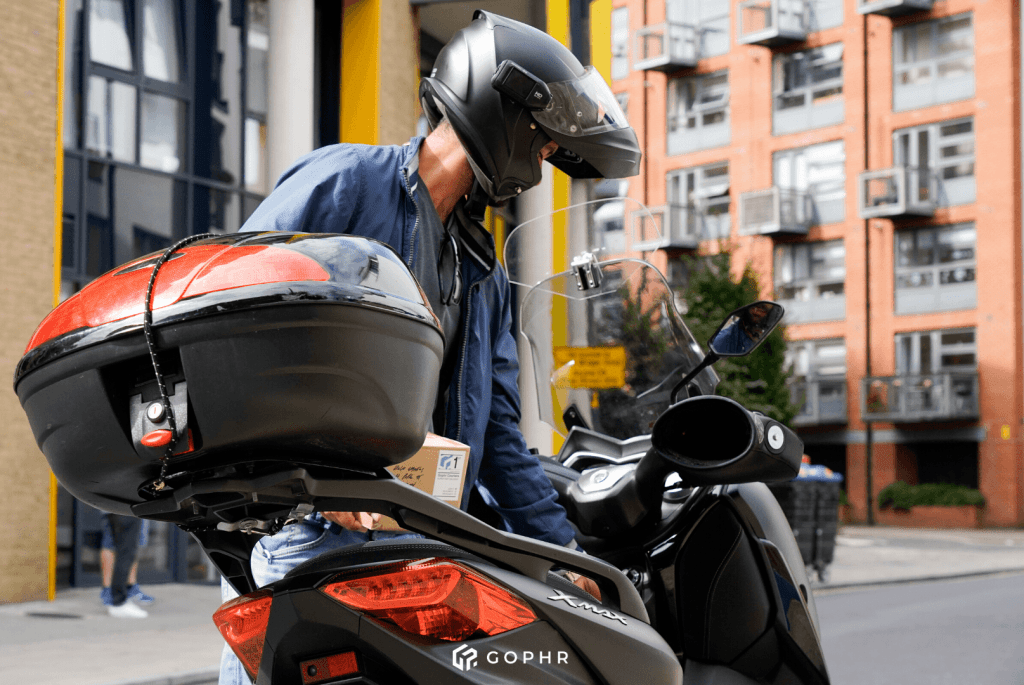 Motorbike couriers have an almost opposite situation to pushbikes. Anything which doesn't fit nicely in their box could be dangerous. But, they can carry a lot more than pushbikes (up to 12kg). 
Motorbike couriers have a top box, which means that fragile items like glass are ok to transport. However, people often forget that motorcycles lean when they turn and this can cause problems as the parcel might roll back and forth. So, if you're sending fragile items, make sure to pack things properly! 
Parcel sizes to send with a motorbike courier
Gophr motorbike couriers are a great solution for transporting heavier consignments, especially those boxes that are too heavy for a pushbike. Motorbike couriers can hold a maximum parcel size of 45 x 45 x 45cm and a maximum weight of 12kg.
If the contents of a package are not easily damaged, and the total dimensions of the packaging comes under these guidelines, then a motorbike would be the best vehicle option.
Items not to send with a motorcycle courier
Bulky items: bags of clothing, large boxes

Pastries and cakes; particularly cakes, cupcakes or decorative items

Flowers

Fragile and delicate items that are not packaged accordingly
Cargo bike couriers: Medium – large parcel sizes
A lot of people still don't know about the amazing abilities of the cargo bike. They come in several shapes and sizes which can carry weights of up to 75kg.
With box sizes, we suggest no larger than two beer boxes or an archive box. Items up to a metre in length are suitable but ideally they shouldn't be more than 60-70cm wide. If you have heavy and large parcel deliveries, and the distance is less than 8 miles then a cargo bike should be your first choice. Unlike vans, these bikes can weave through traffic quickly. They're also much better for the environment.

Parcel sizes to send with a cargo bike courier
A cargo bike courier is suitable for parcels weighing up to 65kg. However, the package itself must not be larger than 60x50x50cm for it to be safely transported.
Using a cargo bike courier isn't recommended if goods are fragile or delicate, or if they're very large or heavy. But for smaller, lighter parcels it's a fast, cost-efficient and reliable option.
Items not to send with a cargo bike courier:
Large flat items that are larger than 1m²

Fragile or delicate items that might get damaged by vibrations (e.g. cakes)

Very large or heavy items
Van couriers: Almost any parcel sizes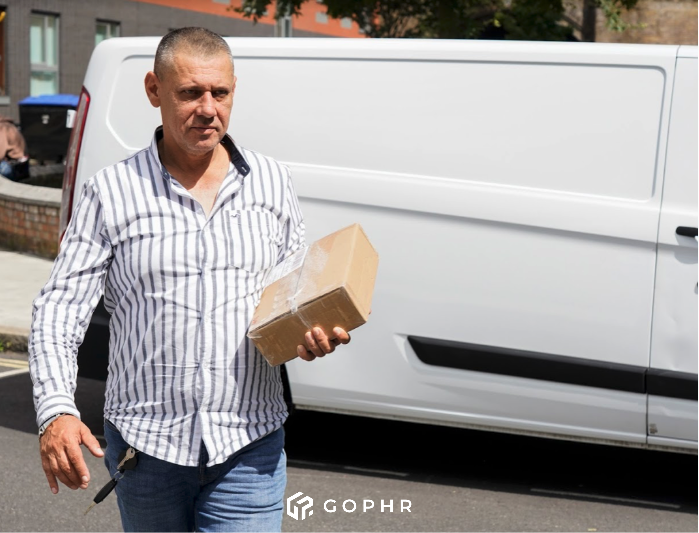 At the risk of stating the obvious, van couriers can and will carry pretty much anything. But that doesn't mean that vans are the best option for every parcel.
If you're deciding on how best to move your parcels from A to B, there are a few things to be mindful of. Take a look at the following guidelines on what and what not to send by van courier.
Parcel sizes to send with a van courier
Despite having some of the most helpful and willing London couriers, there's a difference between a courier service and a man-and-a-van service. Always check-in if you have several items of furniture removed from a house or office, as special attention may be required.
Also, be aware when sending any items that can't easily be lifted by one person or moved on a trolley. Alternatively, if you're sending flowers, make sure that they are not in water or keep the water in a safe watertight container.
Items not to send with a van courier
Anything that you can send on a greener vehicle type

Parcels exceeding the maximum dimensions or weight limits for the size of the van (for extra large parcel sizes please contact us and we can help you find the best vehicle option)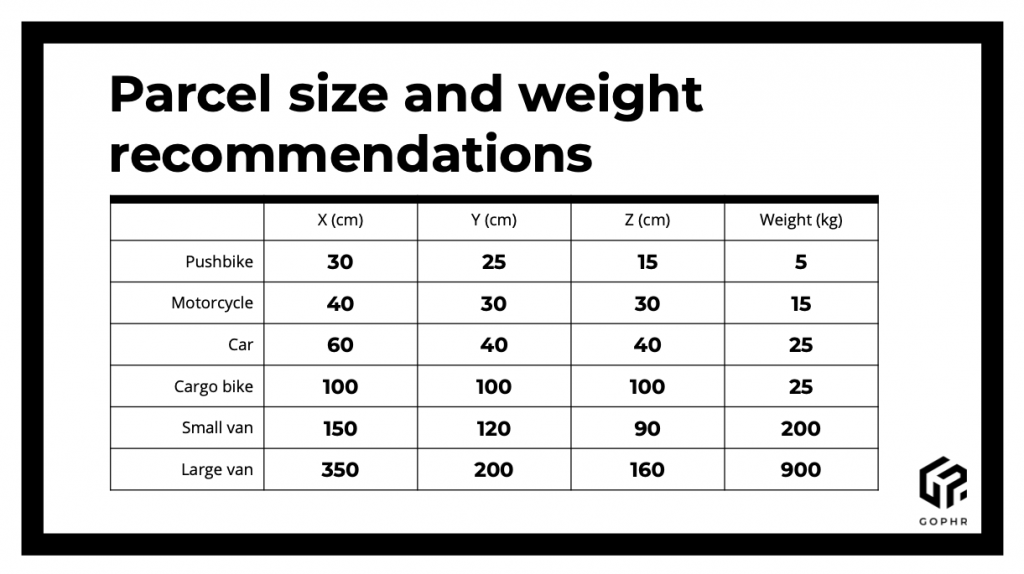 Chat to us via our chat window if you're still unsure about your item, otherwise head here to log in and book whatever you need: https://book.gophr.com/