Our monthly roundup of industry news is published in our newsletter: Gophr Delivered. If you'd like to get these delivery-shaped nuggets in your inbox, you can subscribe here.
---
It's been 2 years since the UK first went into lockdown, and the delivery world has seen a looooot of change in a relatively short time frame. And now we're starting to see some pre-change bounce backs.
Rapid delivery is slowing down ever so slightly (city planners have more to say on that), shoppers are heading back to IRL shopping, and fingers at the ready, because electronic squiggles signatures are back!
Let's see which new delivery trends are here to stay and which old habits are making a comeback.
Stat of the month
They might be the engine room powering rapid grocery deliveries, but it turns out a massive 81% of dark stores in NYC are outside of permitted warehouse zones. City planners aren't impressed and objections are on the way. Rapidly. More info below.
NEWS IN BRIEF

An eventful month for red hot rapid grocery delivery
Getir recently raised almost £800 million – valuing it at nearly £12 billion, bigger than our 2nd biggest supermarket, Sainsbury's. But their speed of delivery and expansion could be cooling. Gorillas are ditching their 10-min grocery delivery 'promise', while city planners in Amsterdam, and more recently NYC are raising objections over the rapid and so far fairly unregulated spread of dark stores into more residential areas.
[bonus read; a great post from Brittain Ladd on the shifting trends in rapid delivery]
Signing for deliveries makes a comeback in the Netherlands
After recently ditching social distancing rules, DPD Netherlands is bringing back signature on delivery. But not everyone is ready to ditch contactless deliveries quite yet. So DPD drivers can workaround by signing on behalf of the recipient, and their GPS coordinates can act as POD to back it up. Smart.
Beauty's getting rapid
Sephora is massively expanding its same-day delivery offering and trialling a sub-1hr service in the US. Customers can order super-fast beauty products from nearly all 500 US nationwide stores, all in the interest of 'exceptional client experience'. Sephora seems to be leading the way for ultra-fast beauty, but the likes of Ulta, L'Occitane, and Estee Lauder are hot on its heels. More on this topic to come from us next month…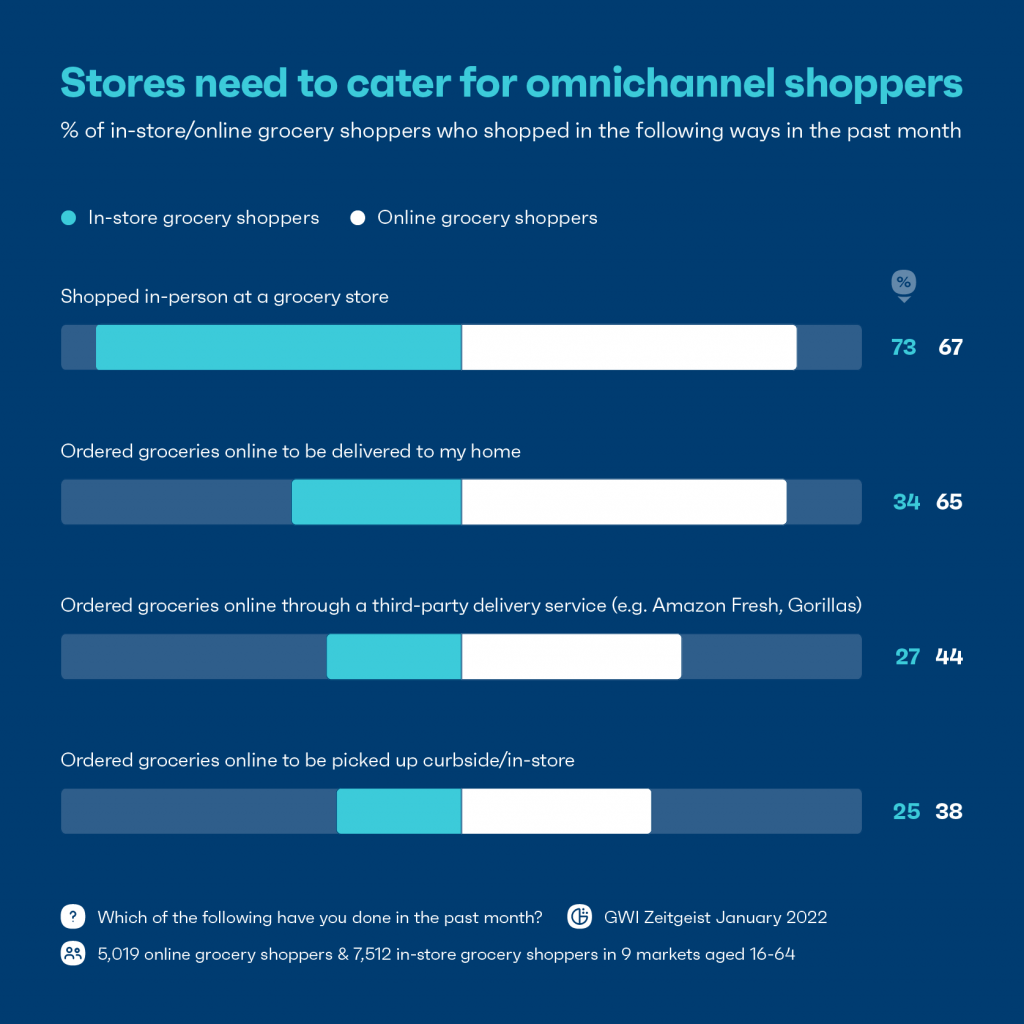 Grocery trends: top-up shoppers are flip-floppers
GWI's chart of the week looks good for bricks and mortar grocers. Seems that consumers do their main shops either online or in-store. But when it comes to top-up shops they flip flop between the two. Which means? Grocers need to diversify; offer weekly slots as well as partner up with a same-day delivery partner to tap into this 'need-it-now' pool of consumers. We've seen the growth of this first-hand with our clients Asda and Co-op.
High Street footfall makes a welcome return to the UK
The UK's return to the office has set the tills ringing across the UK, as shoppers returned to the high street, particularly in London, Manchester and Birmingham. Fashion saw the biggest growth, with total sales increasing by 68.1% YoY, while lifestyle sector sales were up 59.9%.
Limiting online deliveries to match store opening times
Quite a radical proposal to even the playing field between physical stores and online retailers. Catalonia is considering a new law that will regulate home delivery times, meaning online orders can only be delivered within store opening hours – which in Catalonia is 9 am-10 pm, so less radical than you might imagine. But still, it's a trend, and there are other proposals to consider, even delivery free Sundays (queue Harry Potter meme). 
Video: A great delivery experience can't come for free… can it?
"E-commerce is nothing without delivery". Another great ep from The Last Mile Prophets, this time covering how retailers like Macy's can reduce their delivery costs while still offering free shipping.
Back to store… get the music right
People are back to the high street with newfound anxiety but revived excitement, and retailers are switching up their soundtracks strategically to match their moods and even curtail crime. A (pre-pandemic) 2019 survey of 10,000 consumers showed 50% spent longer in a store because they liked what was playing on the speaker. But now, it's about using music to soothe people as they return to stores.
Social shopping, meet Twitter
Twitter Shops is Twitter's latest move into social commerce, which will allow merchants to showcase up to 50 products on their profiles. It's currently a free-to-use feature, that, unlike Instagram, doesn't take transactions on the platform. Instead, users are directed to the merchant's websites. It's also rolled out the Live Shopping feature to other managed partners, including food delivery brand GoPuff, and Samsung.
LONGER READS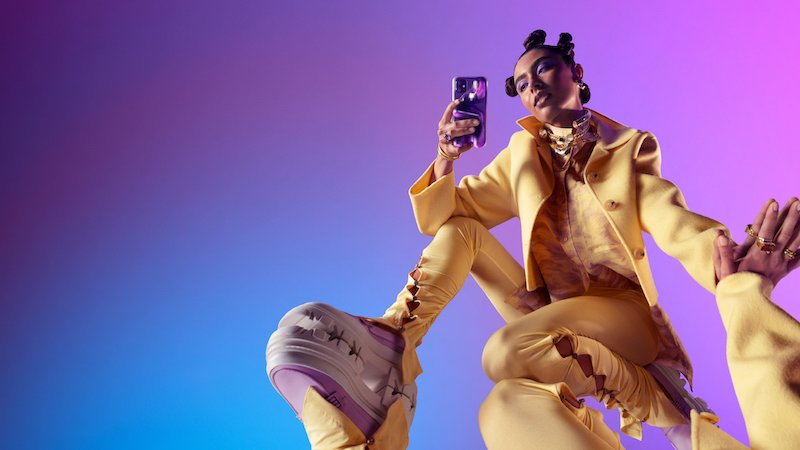 Shopping on mobile reaches the mainstream
67% of people in the UK now shop via their mobiles more often compared to two years ago. And while they're now returning to physical stores, they're looking to combine their online and in-person experience, with 62% using their mobile devices to research products while in-store. More where that came from in Klarna's mobile shopping report.
Primark and Amazon ranked among the most sustainable retailers?
We're slightly surprised about this one. H&M, Primark and Amazon are among the top five best retailers for sustainability. That is according to the results of a survey of 1,000 UK consumers in January. There's a lot to unpack here… Do UK consumers truly care about sustainability? And how does it impact their propensity to spend? Retail Week's latest report finds out, and offers solid advice for retailers on how to navigate it all.
How a vast Amazon warehouse changed life in a former UK mining town
A great story on how the e-commerce industry impacts the communities it builds warehouses in. After a mine that used to offer jobs to the residents in Rugeley closed up shop, Amazon opened a warehouse the size of nine football pitches right on top of it. A huge change for the mining town, but one they've learnt to make the most of.
Are stores the answer to last-mile delivery?
Picking and packing in-store vs. in a dark store has its challenges (sharing checkout lines, crowded aisles, stock management). But having physical stores supports consumer engagement, brand building, and importantly, pickup. It gives a halo effect to local ecom sales, allowing companies to deliver faster to nearby customers.
USEFUL STUFF
'Marie Kondo' your notes with Notion
Notion newbies, these 23 tips, hacks, and tricks will get you started. (07:40 – template buttons is a game-changer).
Lost sleep over the clocks going forward?
Here are some of the best sleep apps and how to pick the right one for you.
Find cheaper petrol nearby
Even the word 'petrol' has us weak at the knees, but every little helps, right? Here's a handy site that can help find cheap(er) petrol nearby.
Have you actually read those Ts&Cs?
Here's a time-saving site that reads and summarises them for you.
Until next time…